These Philippians are DESTROYING a whole generation!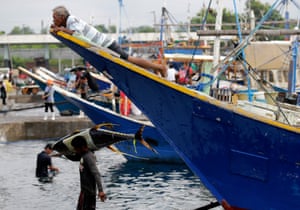 Four years ago, the Philippines was given a yellow card over its fisheries by the European Union, prompting the government to pass a stricter fishing law. But there is still no harvesting strategy and illegal and unregulated fishing remains commonplace.

During the Guardian's visit, young yellowfin and big-eye – none more than 50cm long – were seen on the conveyor belt from ships into General Santos market.

"There is a lot of illegal fishing in General Santos," says Vince Cinches, Philippines oceans campaigner for Greenpeace south-east Asia. "They are taking out a generation of tuna."

Harvest limits, better monitoring and traceability – not to mention unionisation – could also help fishers such as Gomez, who feels the pressure of declining stocks and rising demand more than anyone.

For now though, what the old salt catches he cannot afford to eat; what he earns is no longer enough for his family. His wife is now the main breadwinner and the main dish on the dinner table is ever more likely to be chicken than tuna.
Commentary:
Fish are the source of income for many fisherman. However, over-fishing does result in external cost as it inhibits sustainable development and future generation could suffer from lack of food source and income source.
Hence, the Philippine government passes a strict fishing law, i.e. a tradable permit on the fishing market, as shown in the following diagram:
This reduces the quantity traded and makes it closer to the market optimum, that is, the disired amount, and thus corrects the market failure.