Indonesians are trying to fight pollution themselves
https://www.theguardian.com/culture/2018/oct/31/from-metoo-to-deforestation-indonesian-writers-on-their-countrys-biggest-challenges
'Industrialisation hit us hard'
Indonesia is primarily an agricultural country but industrialisation hit us hard because nothing is centralised. Trying to educate people about climate change is very hard. We have 81,000 km of coastline, with 80% of Indonesian people living in coastal areas. A rising sea level is becoming our biggest threat. Species extinction in Indonesia is also an issue – a lot of animals are in danger because of illegal logging and excessive use of fertilisers.
The best solution to conserve our environment is actually to … work with [people], helping them to help themselves is one of the most sustainable ways of preserving the earth. Unfortunately, most environmental protection programs offered by many are only touching small pieces, and sometimes unable to include local or indigenous communities. By engaging closely with their lives, livelihood, culture, and developing their knowledge, I'm sure we can do better in protecting the earth.
In Indonesia, environmental protection initiatives mostly use imported narratives, designs and thinking, but neglect local wisdom … within the community most connected with the protected area.
'My people in Kalimantan are breathing in polluted air'
Emmanuela Shinta – Dayak activist, filmmaker and environmentalist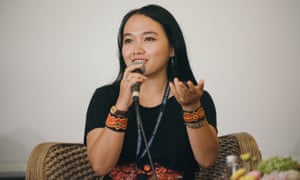 There are two great environmental challenges facing Indonesians right now: palm oil expansion, which causes rapid deforestation; and forest fire. The two are related to each other. Forest fires have been happening in the province of Kalimantan since 1997. The policy to clear 1m hectares of peat land by [former president] Suharto has really changed the face of Kalimantan, once dubbed as the lungs of the world.
Carbon emissions released by forest and peat fire in 2015 in Kalimantan exceeded the carbon emissions from the entire EU economy in the same period. More than 1.5m hectares of forest is lost in the region every year. The fires keep coming back every year, and even now, my people in Kalimantan are breathing in polluted air and the local firefighters are working hard to extinguish hotspots.
Kalimantan has lost at least 30% of its rainforests since the 1970s and between 60% and 90% of orangutan habitat is gone. Indonesia is the biggest producer of palm oil in the world with most companies operating in Kalimantan and Sumatra.
We need to involve indigenous people in the solutions to environmental problems. The Dayak people are the first people of Kalimantan, and indigenous people have been guardians of the forest for thousands of years. Now we are too busy with technology to fix what we have broken, and forget that we always have to come back to the roots.
We need to strengthen grassroot community movements, because sustainable solutions can only come from the ground up. I will do what I can do and fight to save my home, my people, my mother earth.